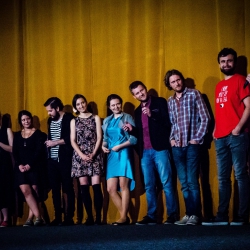 Photos from Opening Night
On Wednesday, 1June, opening night of the Accept movie took place in the University Cinema Scala in Brno where major filmmakers appeared. The main protagonist of the movie, composer Lucie Vítková could not physically attend the event due to her study stay in New York. She was however able to join thanks to an audio and video installation in the foyer of the cinema, which run through Skype, and so could the audience and the performer communicate with each other. The following after party was held in the Cafe Morgal courtyard of the Governor´s Palace.
 Photos from the evening are available for review on our Facebook page.